Apple Orchards Around Columbus
Apple Orchards Around Columbus: Apple Picking, Pumpkin Patches and More to Explore
Going apple picking is one of our favorite fall traditions in Columbus. With tons of U-Pick farms and orchards around the city, there are plenty of opportunities for you to get out and enjoy this classic, midwest activity this season. Plan your apple-picking or pumpkin outing to one of these central Ohio U-pick farms this fall!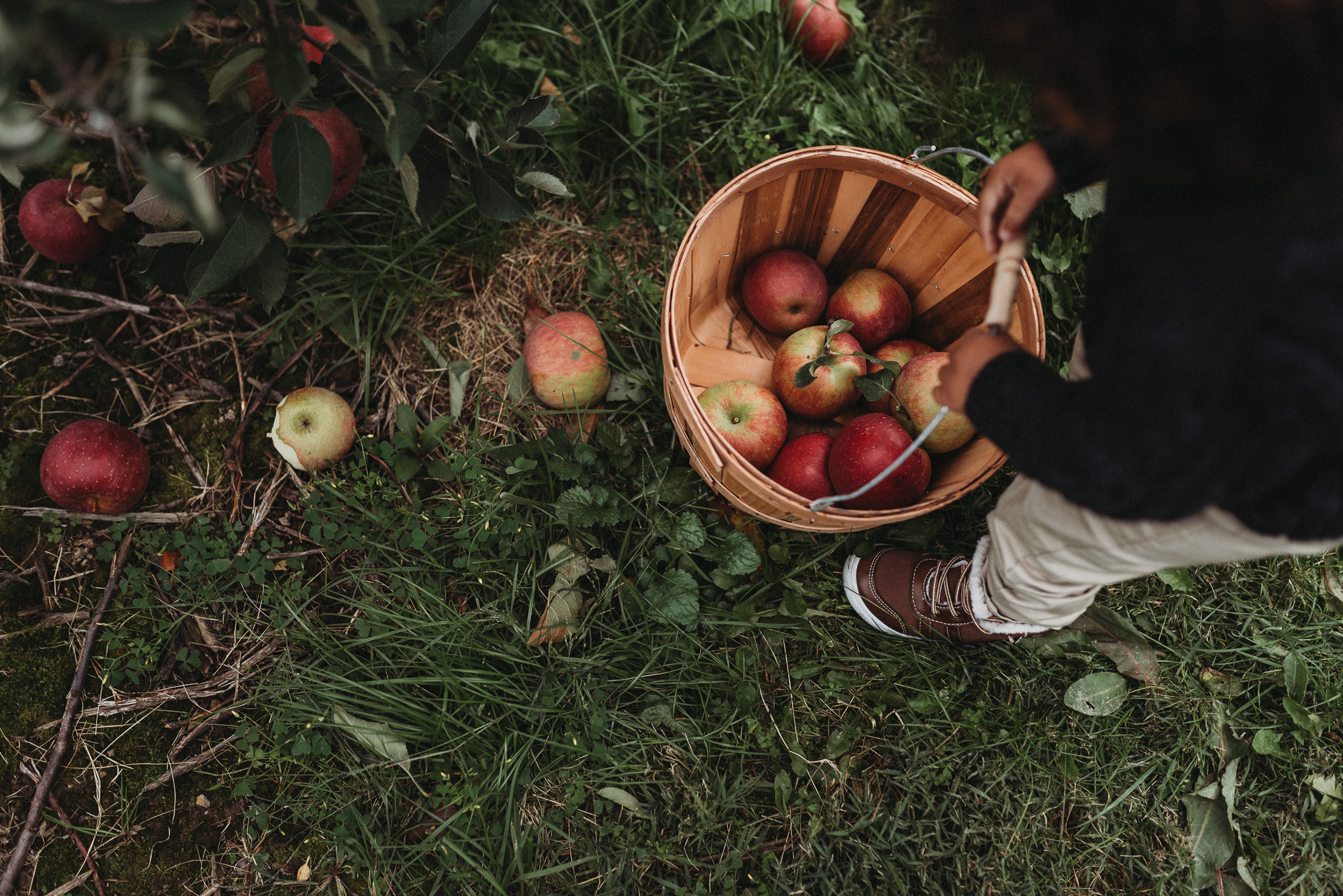 Branstool Orchards (Utica): You can pick 37 varieties of apples at Branstool! Hours run from 9 am - 6 pm Monday-Saturday and 10 am - 5 pm Sundays, with the website updated daily if there is a need to close while the fruit ripens. Food trucks are on-site some Saturdays as well and leashed dogs are welcome to join the fun!
CherryHawk Farm (Marysville): CherryHawk is a family-owned orchard spanning more than 60 acres. They feature 19 varieties and update their website with what's available on a regular basis.
Lawrence Orchards (Marion): This family-run orchard and farm market offers 26 apple varieties throughout the season, with availability updated on Facebook, along with seasonal fruits, jams, jellies and more. Be sure to visit the Cider House Pavilion and pick up a gallon (or two!) of fresh and all-natural apple cider from Labor Day until Christmas Eve! Picking is available from 10 am - 5 pm, Monday through Saturday.
Legend Hills Orchard (Utica): Legend Hills is celebrating five generations of operation! Pick until your heart's content from 9 am - 6 pm Monday-Saturday and Sunday from 10 am - 5 pm. Check out what's currently available for picking here.
Lynd Fruit Farm (Pataskala): Lynd is a popular spot for U-pick apples, offering acres upon acres of apple trees for climbing and picking. They also offer hayrides through the orchard, a corn maze, and the big market tent loaded with produce, fall items and baked goods.
Ochs Fruit Farm (Lancaster): Ochs has been operating as a family-run farm since 1872 and offers more than 90 varieties of apples. Keep an eye on their Facebook page for daily availability and hours of operation.
The Orchard & Company (Plain City): This family fun center is more than just an apple orchard. Open 11 am - 6 pm on weekends through Oct. 30, it also offers lots of exciting activities for all ages including wagon rides, farm animals, zip lines and more. There is no admission charged for u-pick apples or to visit the store, but those entering "Farmyard Area" will need general admission and a Farmyard Pass. Please leave your four-legged friends at home for this experience!
Testimonials
" Emily is very responsive, knowledgeable, pleasant and ethical. 10/10 would recommend working with her in the future. Buyers and sellers: you want Emily on your side during a transaction!!! "
- Thomas Wetmore
" Emily and the team are GREAT! Emily walked us through the entire process and made us feel very comfortable with each step. I have already recommended her to my sister. "
- Michael Holtzleiter
" We decided to sell our investment property in mid-summer and contacted The Allen Team. Emily and her team did a wonderful job marketing the property and made the entire process stress free. The property was listed at the end of August and within 48 hours we received a full cash offer that closed in under three weeks. This far exceeded our expectations and appreciate their hard work! We recommend them to anyone looking to buy or sell. "
- Karen Ispan-Borchardt
" From our very first meeting, we could tell Emily was the perfect realtor for us! She was very organized and an excellent communicator. The prospect of buying our first house was very daunting - especially in a tough market - but she made everything so much more comfortable and easier to understand. Emily struck a great balance between helping us manage expectations and always staying hopeful, and had great insights on what to look for and how to make competitive offers. She also has great connections with everyone from lenders to locksmiths, which was a huge help for us as first-timers. We would happily recommend Emily to any of our friends and family in the area! "
- Jacob Hughes-Gartin
" Emily helped us sell our home of 12 years and purchase property out in the country. She gave us sound advice concerning updates to our house to make it more appealing to buyers. She also listened to us and our dream to own a farm. Emily walked us through the process of selling our home and purchasing property and we are on our way to owning a farm. "
- John Ammons
" Emily was amazing. She stayed on top of everything, gave me meaningful suggestions and support and she communicated so much I didn't have to worry or think about what was next. She made the process painless and despite a tight deadline made it work. I appreciate her working with me and if I am ever looking to sell I will absolutely work with her again. "
- Lloyd White
" The Allen Team is exceptional! We have bought and sold property with them for 30 years! They are always professional and prompt to call to the table! My last two sales were marketed perfectly and sold quickly and for over the asking price! My last buyer found our property from Texas that was a long reach for them! Excellent job Sue and Emily! Excellent job! "
- Jeff McCullough
" Emily worked with me to find the perfect home. She assisted in a quick closing and made the process easy. If you want a realtor that will work for you, I highly recommend Emily Allen-Doty. "
- Lezlie Barton
" I have used Emily 3 times and every time she has been a pleasure to work with. Very professional and helpful. She was there every step of the way from start to finish. I highly recommend Emily for any buying or selling needs! "
- Andrew Folk
" Words cannot express how helpful the team at The Allen Team RE/MAX were. I am not sure how I can rate someone that literally does everything in their power to ensure you land the dream home you've been looking and waiting for. Emily and her elite capabilities made the home buying process a literal walk in the park. She made it clear as to what our responsibilities were and helped us execute on the property we instantly fell in love with. Mind you there had already been an offer on the table, but Emily stepped in and got the job done! Me and my wife are forever grateful for the hard work and excellence that was preformed on our behalf by Emily and her colleagues with The Allen Team. As long as they are an option, we will be going with The Allen Team at RE/MAX. "
- Jan Vecerka
" I was put in contact with Emily of The Allen Team by chance. After responding to a Zillow property, I requested a property visit of the desired Zillow property. Emily tried to set up the property visit but the property had gone into contract already. I then gave Emily the precise criteria of the ideal property and within hours I received 4 links of properties that met my request. One of the properties was particularly interesting so we met to be the first to go through the open house. We walked through, I made some calculations, then made an offer which was accepted and closed in less than 3 weeks with keys in hand. What a great experience! Emily replied to all my texts/emails in a timely manner and got back to me with answers to all of my questions/concerns. Emily is direct, concise, and to the point. Totally efficient, perfect for my personality type. 1000 thanks to Emily. "
- Edoardo RONCONE
" Emily is a great listener. We were in the market and out the market and then back in for a while as our circumstances changed and she remained helpful throughout. Every time she showed us a house, she listened to what we liked and what we didn't like and went out of her way to manually email us some listings that she thought we should see. We never felt like she was just trying to close a deal, that she didn't want us to settle for any house just because how difficult the market was or make a higher offer than what we were comfortable with. She did quite a bit of background work in terms of reviewing the properties and any disclosures prior to showings and also pulled comps as well so that were aware. Would definitely use her again and recommend her as a realtor to friends/family in the Columbus area. Like "
- Amy Lan
" Emily went above and beyond to secure our dream home for us! She was thorough, prompt and extremely helpful during a stressful time. She helped us to be competitive in this market, but kept our feet on the ground as well. If you are looking for a home in this market, I would definitely recommend Emily! "
- Beth Marshall
" Emily helped my wife and I find our dream home. She is very knowledgeable and knew what to look for while showing houses. She took the time to find out exactly what we were looking for in a home and consistently sent us listings that matched our preferences. She was always very quick to respond any time we had questions or were interested in a listing. Would definitely recommend!! "
- Keegan Kumar
" Emily did an amazing work to find our home in Columbus. We will definitely work again with her in the future! "
- Mariano Lanza
" As first-time homebuyers in a crazy housing market, Emily was the perfect realtor for us! She provided excellent advice in navigating the housing market and helped us win a fantastic house. Emily was quick to respond to our text messages and helped us feel confident as we navigated the home buying process for the first time! Thank you, Emily! "
- Abigail Clark
" Emily helped my parents to buy a house. She was extremely professional, knowledgeable, and helpful. Within a short time frame they successfully purchased a house during a competitive time for buyers in the housing market. I highly recommend her as a realtor. "
- Lina Yoo
" We recently sold our first house, a decision that was difficult as we thought it might be a forever home. Emily was so much more than a realtor for us, she was a friend who understood our special circumstances and made sure that we found a perfect new home. As first time sellers, she helped break down the process for us, every step of the way. She answered all our questions (and we had many). We can't thank her enough for all the work she did. I HIGHLY recommend this realtor team, they're amazing. "
- Matt Santry
" Emily did an amazing job for us! I enjoyed the professionalism, honesty and responsiveness. She was easy to work with, understood our needs and always made me feel as I was her only Client. I enjoyed receiving her weekly stats report, I felt informed and guided by the valuable information she shared. Selling or buying can be very emotional, Emily understood my emotion and attachment to my home and she guided me with industry trends and stats which reduced some of the emotional concerns. Trustworthy, friendly and professional are the three attributes I would use when describing Emily and the Allen team. "
- Anthie Constantinidis
Previous
Next